Dear guest!

Please allow me to invite You to an Independence Day BBQ on top of Dexter Hill. Our large patio has an awesome view to the lake Union, perfect to enjoy the annual Seafair fireworks. Unlike the official event, pets and bottles are welcome 🙂
Schedule
05:00 p.m – Early birds arrive
06:00 p.m – The grill is fired up
07:00 p.m – Attempts to observe the skydiving performance held over Lake Union
10:15 p.m – Flyovers, cannons, fireworks
11:00 p.m – Official shows over Lake Union finish
late night – everybody is sound a sleep @ home
What to bring?
Your favorite side dish and drinks
SO, pets and children
Entertainment devices: Musical instruments, board games, silly hats, beer serving robots etc.
Binoculars
Sunscreen
Your friendly host will take care of all the raw beef, pork and chicken. Unless you crave something really special (e.g. dream valley grass-fed filet mignon), do not move raw meat in the summer heat.
How to get there?
The address is:
1735 Dexter Ave N #A501 (map)
Seattle, WA 98109
There is also an entrance on the Aurora Ave side ( 1660 Aurora Ave N ).
The intercom doesn't work! It requires a 206 prefixed number which is hard to obtain. Please call my cell phone +1 310 259 0519 when you arrive.
Parking is going to be scarce. Consider using either public transportation or Uber. When arriving via a bus, take either Galer St. stop on Aurora Ave (5/16/82/E-Line) or Howe St. stop on Dexter Ave (26/28).
There are two parking lots, operated by Diamond parking services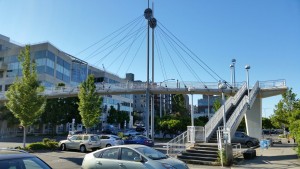 ($6 a day), at Dexter Ave here and here. Additional parking lots are located next to Marinas at Westlake Ave. If you park on Westlake, use the Dexter Hill climb (pictured on the right) to reach the summit.
Your host wakes up at 10 a.m so if you feel that you must drive, consider arriving early, I don't mind a helping hand 😉